Adapting To The New Interview Process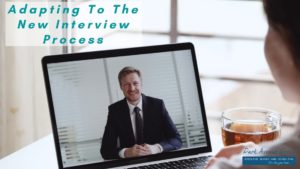 Credit Unions are growing and facing a crisis with hiring. Recruiting firms have access to great talent, they're struggling with Credit Union's on pulling the trigger to make hires.
Normally, the interview process takes about 2 weeks from interview to decision making and start date. Since the pandemic, the average hiring decision takes 3-5 weeks. Relocation has also become very difficult. Many people are uncomfortable to moving to a different state or area while COVID cases surge nationally.
When it comes to the interviewing process, most companies have been doing them via zoom, skype, facetime, or any video call platform. Once the employee is hired the employers are being flexible with start date and location. In the article COVID Disrupts Recruiting Rhythms for Credit Unions David Hilton says:
"Very few of his clients are hiring new executives after video interviews. But when they do, it's either because they desperately need the executive to fill the job or they already know of the person and are OK with making the hire following video interviews."
Since interviews have moved to video calls, many board members are not entirely bought in on hiring candidates. Nationally, most board members are 60 and don't enjoy or use technology as much as younger people do currently. Most decision makers find comfort in traditional face-to-face interviewing, under the current pandemic circumstances most interviews will shift to video calling. Video interviewing has many benefits compared to traditional in person interviews. They can be conducted anywhere, save travel costs, and are extremely easy to schedule.
Recruiters are experiencing a surge in job seekers reaching out to them. Many potential candidates who are currently employed, call trusted recruiters because they may disagree with the way their employer initially responded to COVID. Some of these candidates no longer feel comfortable with their current employer. This is a great time for Credit Unions to partner with recruiters to build out their teams across all lines of business.
More About Park Avenue Group
Discover how Park Avenue Group rises above the competition, delivering unparalleled solutions and top-tier candidates that allow your business to succeed.