Bank App Hacking on the Rise During COVID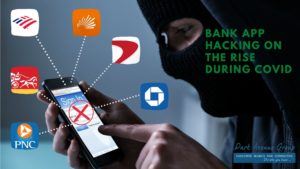 Since life has taken a turn due to COVID-19 have you turned to online banking?
This past Wednesday (June 10, 2020) the FBI announced that a lot of banking apps have been getting hacked. Many bank companies have moved to online because of social distancing and want to make it easier for their costumes to get the services they need while staying safe and healthy.
The FBI expects the banking world to explode with hackers because mobile apps have had about 50% more use since the beginning of the pandemic.
Banking trojans considered to be the preeminent threat for mobile banking. They are a specific kind of virus that creates botnets, steal credentials, inject malicious code into browsers, or steal money once its downloaded onto a phone. Once the victim downloads the real banking app it overlaps with it and tricking them into inputting their banking credentials. Not only are banking trojans dangerous, there are also fake banking apps designed to trick people into thinking they are the real app for their bank.
The FBI suggest that you only download a banking app from the appropriate bank website or from an official app store. In this article the FBI states;
"If you encounter an app that appears suspicious, exercise caution and contact that financial institution," the FBI emphasized. "Major financial institutions may ask for a banking PIN number, but will never ask for your username and password over the phone."
This is not the first announcement that the FBI has put out since the pandemic, hackers have stepped up their game when it comes to working and being active online.
Last month the FBI and Cybersecurity and Infrastructure Security Agency announced that health care and research groups that were developing COVID-19 treatment are active targets for Chinese-backed hackers.
In April, an FBI top official mentioned that when the COVID-19 pandemic began the Internet Crime Complaint Center was receiving 1,000 more complaints daily due to hackers.
Major agencies including the World Health Organization and the Department of Health and Human Services have also been targeted by hackers. Their efforts include using coronavirus concerns to steal sensitive information from their targets.
More About Park Avenue Group
Discover how Park Avenue Group rises above the competition, delivering unparalleled solutions and top-tier candidates that allow your business to succeed.