Cash App Accelerating Digital Banking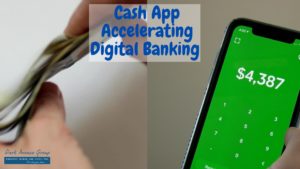 Jack Dorsey, the CEO of Twitter, also helms the payment processing method called Square. September 15th Square launched "On-Demand Pay", which allows those who use Square for payroll to give their workers up to $200 of their paycheck ahead of their normal biweekly schedule. Square has partnered with Cash app to allow that $200 to go directly into the app.
The reason for Squares' new initiative is because of the decline in cash tips at restaurants; this is pointed out by the general manager of Square's payroll Caroline Hollis. During the pandemic people find cash a germ-spreader; many rather move money digitally.
Hollis told CNBC in a phone interview;
"We're solving for cash flow. If you work at a restaurant, cash tips used to be one of the biggest portions of your wages, and that has really dropped off."
Square and cash app both allows users to sign up for direct deposit when creating an account. Once you create an account you can opt in to get paid via Square's mobile account and then you will receive your funds in minutes. If users want to link their external bank account they can, however payment can take a matter of days and incur interchange fees.
Hollis also mentions in the article Square launches payroll feature that could boost its banking business through Cash App.
"It's much easier to use Cash App versus having to go and look up your account and routing number information. You get paid sooner if you pay out via Cash App — we're able to do that because we own both sides of the transaction."
Since the pandemic, Square's seller ecosystem has taken a hit due to small businesses forced to shut their doors. Cash App has taken off in other directions allowing direct deposits which is the key reason for Square's 130% stock rally this year.
PayPal's Venmo sees Square as a competitor due to it also offering direct deposits, a debit card for spending, and unlike PayPal, offers equity and cryptocurrency trading. When people started receiving government stimulus checks they would deposit it to their Cash App. Unemployment checks and tax refunds were driving users to Cash App.
Max Friedrich, analyst at ARK Invest said;
"Until the Coronavirus crisis, Cash App really hadn't been on the radar for many investors when they thought about Square. That changed through the crisis — Square's main business stopped and all eyes focused on the Cash App."
The star of Square last quarter was Cash App due to the gross profit for the app rising 167% year-over-year to $281 million. The amount of money people keep on the app jumped 86% from the prior quarter. At the end of last year, their user base was 24 million and since June of this year has jumped to 30 million according to the company.
Due to Square controlling the seller side and the consumer side of transactions with Cash App and the healthy growth during the pandemic; investors are falling over themselves to partner with Cash App.
More About Park Avenue Group
Discover how Park Avenue Group rises above the competition, delivering unparalleled solutions and top-tier candidates that allow your business to succeed.