COVID and The Dramatic Shift to Interim Employment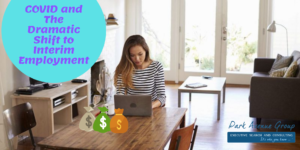 Have you noticed the difference of working for a company vs. working for yourself? When working for a company they control your hours, location, compensation and the benefits. That is all about to change in the near future.
Contracting became popular when employers got creative addressing their fluctuating labor needs. It was a cost savings to circumvent unions, reduce benefits, and increase corporate profits. Over time employees liked the flexibility that contracting offered them. When employees work for themselves they get to chose who they work for. Freelancers in 2018 in the U.S had close to 57 million people and over 61% them are freelancers by choice.
Advances in technology has enabled contractors to sign up online for a contracting site (like Credo, Upwork, Fiverr, etc.) to make themselves available in minutes. Many freelancers, about 64% have found job opportunities through this contracting site or other online places. Employees around the age 18-26 have said flexible working is a viable long-term career strategy. Online contracting sites have offered both flexibility and access to less-expensive global labor force.
When COVID came around employers were forced to make their employees work from home, which could turn into a trend in the future as technology advances and potential cost savings on real estate. On the other hand, the COVID crisis has had a dramatic effect on the labor market from mass layoffs. Companies will take this time to reevaluate full-time positions, use of artificial intelligence, and robotic process automation tools to save money and enhance productivity.
COVID-19 could have created the perfect storm for jobs. Reason being is; there could be a contract-free economy ahead of us. With technology advancing and many working from home the contracting and remote work offers a cheaper talent pool and grater flexibility for employers.
Contractors have noticed recently they don't need to depend on one employer for their livelihood anymore. As companies expand online, people will start to create microblogs and YouTube videos and other news perspectives. Trending to the new normal is a concept of "unions of one" where is each individual is a union of themselves. They are their own boss, have the power of when, where, for how long, and at what compensation to accept work. With just a single click employees can go beyond their immediate geographies and tap into a world of opportunities.
Currently, recruiting firms are a great resource for contingent workforce needs. They have relationships with large networks of freelancers and will provide the insurance, payroll, hiring/firing of the contractor.
The Drastic Shift In Employment Trends, Massively Accelerated explains what to do as an employer;
You have to acknowledge the change and embrace it.
Reexamine your process and workflow.
Get ahead of the curve.
Get comfortable with technology mentally and in capital.
It is your choice on if you want to ride the wave of change or stick to the same old routine.
More About Park Avenue Group
Discover how Park Avenue Group rises above the competition, delivering unparalleled solutions and top-tier candidates that allow your business to succeed.