Digital Banking Hold Backs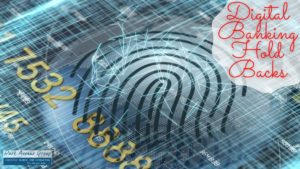 Banks are shifting towards the digital world each day; there are 3 problems though that are holding banks back from digitizing. The concerns banks have for moving digitally fully are; compliance, organizational resistance, scalability issues, and limitations of legacy IT systems.
Here are the three problems that are holding banks back:
Organizational Resistance
When trying to introduce innovative technology banking executives often face resistance. Also with managers being swamped with other responsibilities executives do not see the pressing need for going digital. The people with the most concern about learning the new technology and security fears about data breaches are the front-line employees; they are used to the traditional system. To gain the front-liners support they need to have a multifaceted approach.
Scalability Issues
Adapting to new technology is not easy; many banks have challenges of scalability and increased workload. The solution to moving towards the technology route will be to promote scalabilities like chatbots, automated fraud detection, voice assistants, eForms, and eSignatures.
Compliance Concerns
Banks like to keep their tradition with allowing customers to come to a physical bank to take out a loan or open new accounts. Which is why banks find moving digital risky. Many technologies like patch management tools, auditing, and ID verification can automate and improve as long as the technology fits with existing procedures.
Read more here
More About Park Avenue Group
Discover how Park Avenue Group rises above the competition, delivering unparalleled solutions and top-tier candidates that allow your business to succeed.