Does it Make Sense to Transition to Work From Home Excursively?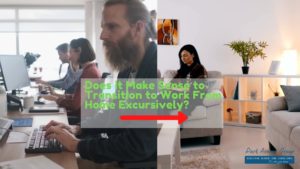 The economy is changing quickly due to COVID-19. There has been a new economy that has emerged recently called the interim economy. This will be a time where businesses will either adapt or disappear. A large reason for the interim economy is because there is no guarantee that a vaccine will be created for the Coronavirus in the near future.
A recent study shows that up to 40% of jobs in the U.S. can be performed remotely. Before the pandemic only about 3% of U.S. jobs could be done remotely. The interim economy was a minor trend before the pandemic, it was largely up to the individual worker to decide to work from home. In most industries it was a rare-exception rather than a rule.
Many companies like Google, Twitter, Facebook, and Square have already announced they will be allowing their employees to work from home through at least the end of 2020. While other companies may choose to continue remote work on a permanent basis. Gartner Research did a survey in March of 317 CFOs and finance leaders; 74% say they will move at least 5% of their previously on-site workforce to remote positions permanently post COVID-19. According to a Gallup poll that was run concurrently, nearly 60% of people would rather stay working from home after businesses and schools have reopened.
This is a once-in-a-lifetime alignment between employee desire and employer needs that will have the chance to change the current employment landscape. The next logical step being to transition workers into independent contractors.
The pandemic is just the tipping point for millions of people; with 160 million employed in the U.S. in February, 65% of them having full-time jobs and 33% had a contracted job with a predetermined end. Over the years the average length of a full-time employer was 3.5 years and decreasing. If you fell into the contracted category the average length was 2+ years and increasing. Many people are anticipating another COVID resurgence in the fall; and the over 21 million unemployed Americans, a substantial bounce back of the job market is a tough ask.
Heidi Shierholz mentions in the article Op-ed: More companies will offer remote work at price of staff position. Take the deal
"If we succeed in restoring "a million jobs a month — which would be absolutely unheard of — it would still take almost two years to get back to where we were."
As employees agree to work from home many businesses will be forced to cut labor costs. These businesses will offer a deal to full-time employees; allowing them to work from home in return for becoming a contract worker. This will allow enormous savings on paid personal time off, health-care benefits, retirement plans and other additional costs. Also another cost saving would be the location of the employees livelihood. For example; if an employee can live in Flagstaff, Arizona or Kennebunkport, Maine then their company will no longer need to pay for San Francisco or New York living. Salary requirements could also drop 30% if someone can perform their work essentially anywhere; this could have a tremendous macroeconomic impact on business.
What the interim economy will look like
Employees will thrive as independent contractors.
Sought-after employees across many industries will have agents representing their careers.
Contract workers with similar backgrounds will form trade organizations.
Home will become a mini metropolis for each worker.
Professional branding will make resumes obsolete.
There are pros and cons to this economy though based on each age group as a current full-time employee.
The generation of late baby boomers and early Gen Xers (50+ age workers), will be first for dis-employment because of their high salaries they tend to have, but they will have more experience and institutional knowledge that will be important in a world of on-demand workers.
Millennials will have the upper hand due to their knowledge and experience of technology; downside is they will have to compete with both younger and older workers for income.
Even though Gen Z will lack technology experience they will have the upper hand on the lower end of the pay scale due to their toughness born out of experiencing the Great Recession as children and now the pandemic as young adults.
As we start moving towards this new employment revolution we have to open our eyes to reality and not keep them open to just what we want to see it as. You won't be alone; both companies and individuals who embrace this new economy change will thrive.
More About Park Avenue Group
Discover how Park Avenue Group rises above the competition, delivering unparalleled solutions and top-tier candidates that allow your business to succeed.