Ghosting During the Hiring Process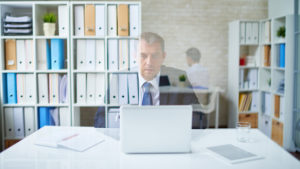 In our 24 years as an Executive Search firm, we have witnessed all types of scenarios happen during the hiring process for both our candidates and clients. The use of the term "ghosting" in the workplace has been on the rise in recent years, specifically referring to the hiring process to describe when one party vanishes or discontinues communication without warning.
In 2018, USA Today reported that many companies in various industries were forced to modify their hiring processes due to 20% to 50% of job applicants and workers pulling no-shows for both interviews and their first shifts. Earlier this year, a survey conducted by Indeed reported that job seekers are ghosting employers now more than ever before, but it's not necessarily unwarranted.
77% of job seekers in this survey indicated that they have been ghosted by an employer since the onset of the COVID-19 pandemic in March of 2019, and even 10% reported that an employer has ghosted them even after a verbal job offer was made. On the other hand, 76% of employers have been ghosted in the same time frame. Despite ghosting being pegged as a highly un-professional behavior, why does it seem to be happening now more than ever and from both parties involved?
For job seekers, it has been ingrained that the standard job-hunting routine is to 1) apply, 2) interview if you are selected, 3) hand write a thank you note or send a thank you email, 4) follow up after a few days and 5) wait for the next steps. It is expected that if a candidate hasn't received a prompt response from an employer that their opportunity has likely come to a dead end. A recent article by BioSpace states that, "for many industries in the U.S. there are more open jobs than there are available candidates…therefore (the candidate) feels more empowered to call the shots during their job search."
Having to juggle multiple interviews or job offers could be a reason for a candidate's lack of communication or appearance. Conversely, businesses have been managing shifts in their personnel on top of doing their best to navigate the economy in the last 18 months. Regardless of the reason, the data still shows that ghosting has become almost normalized in the job market. However, there are ways to prevent this gap in communication and to avoid added frustration during the hiring process.
Employers – In this candidate driven market, consider communicating to your candidates throughout all stages of the process, especially if you foresee any delays in hiring due to business activity. What may feel like a day's wait to you could feel like a week or even longer to a job seeker. Being open and honest with your candidates can make you stand out and maintain a positive image in the job market to potential hires.
Candidates – There hasn't been much discussion surrounding the repercussions of ghosting during the job hunt, but it's a small world and the feeling of rejection for anyone is usually uncomfortable. To protect your reputation in your industry, you should never ghost an employer. Instead, be prepared to say "no" in a polite in professional manner to the opportunities that don't feel like they're the best fit for your career.
In the end, ghosting in the hiring process is a behavior that is unprofessional and can be detrimental to your reputation. If there is any hesitation to tell someone "no this opportunity isn't the right fit" it's time to break this cycle of miscommunication and just be open and honest with the other party. Let's get back to doing business as usual but with extra care and consideration for one another's time.
More About Park Avenue Group
Discover how Park Avenue Group rises above the competition, delivering unparalleled solutions and top-tier candidates that allow your business to succeed.