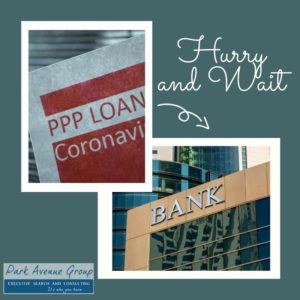 The PPP loan forgiveness window opened August 10th 2020 and banks are gearing up to start getting accepting/approving loan forgiveness applications. The SBA has launched their portal but many banks are advising their borrowers to wait for further guidance from the government. Due to uncertainty in the forgiveness process, chiefly the thresholds for complete loan forgiveness.
Chase is the largest single processor of PPP loans, won't be up and running until late August or early September. Wells Fargo are waiting on additional guidance from the SBA regarding forgiveness and did not give a set date on when they will begin processing applications. Bank of America is not accepting applications for the August 10th start date. PNC and Truist will start accepting applications from small businesses later this August.
Through July 31st, Chase, Wells Fargo, Bank of America, PNC, and Truist are the top 5 PPP lenders by total dollar amount of $968,109. Just through that date the SBA approved a total of $521.3 billion in PPP loans.
Atlantic Union Bank in Richmond, Virginia said they won't be accepting forgiveness applications until August 19th; they processed an outsized number of PPP loans for a bank their size.
In the article Small Business Administration has opened its Paycheck Protection Program forgiveness portal. Here's why many small businesses will have to wait Asbury said in an email, but added if forgiveness rules change, they will update the portal accordingly.
"We will send email invitations to PPP borrowers to begin the forgiveness process, and will do so in daily batches in order of the loan funding date [with the earliest first],"We are watching the pending legislation in Congress with great interest as it could substantially reduce the forgiveness application process, particularly for loans less than $150,000 if passed."
One of the many changes Congress is figuring out for the PPP loans is automatic loan forgiveness for smaller loans. Different streamlined loan forgiveness rules depending on the size of the loan, the ability for some small businesses to draw extra money on their first PPP loans and ability to get an expanded set of costs forgiven, among considerations for legislation.
JPMorgan said if loans below $150,000 were automatically forgiven then it would account for about 90% of its PPP loans. They will not wait for legislation as it builds its portal, while munitioning Congress.
Jeff Morlend, a finance partner at law firm Sullivan & Worcester LLP, said
"They want to see how things go, and if guidance does come out or if the application is revised then they want to be able to wrap their heads around it and get their internal processes up to date before they start accepting applications, The number of applications that are going to flood in once the gates are open is pretty significant."
Many companies have taken time to fill out their forgiveness applications and to decide if they want to submit right away or not. Banks and borrowers don't know if there might be additional updates or guidance in the coming days.
Its like a game of whack a mole with the PPP loans; do they submit when portals open or do they wait? There is no law saying that banks can't give fees for processing loans and only obtain the forgiveness funds after the application has been submitted to the SBA. The biggest concern for banks that processed huge numbers of PPP loans is to streamline and automate the process so they don't get overwhelmed by paperwork.
More About Park Avenue Group
Discover how Park Avenue Group rises above the competition, delivering unparalleled solutions and top-tier candidates that allow your business to succeed.