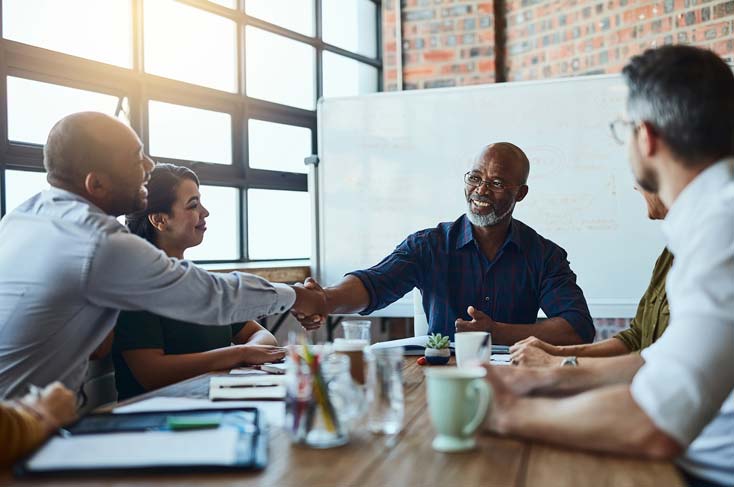 It takes talent to find talent
Park Avenue Group is always interested in growing our team with dynamic individuals with the skills, drive and work ethic to improve the standing of businesses and the lives of individuals through a skillfully executed recruiting process. Recruiting is about collaborations and mutuality, and Park Avenue Group is dedicated to providing highly qualified and motivated individuals with the tools and support they need to excel in an industry that offers them the opportunity to make a difference and be generously rewarded for success and accomplishment.
At Park Avenue Group, we have a philosophy of abundance and achievement, and we offer our recruiters a clear career path with advancement and growth potential. As recruiters, we understand how impactful the right team can be to an organization's success. If you think you have the attitude and aptitude to succeed as a recruiter and you are interested in the potential to earn what you are truly worth, reach out to us today and tell us how you could be an asset to our team at Park Avenue Group.
Testimonials from our current and former employees
Jesse Olinger – Recruiting Project Coordinator
It is my great pleasure to share this testimonial regarding the love and respect I have for Stacy (Ethun-Stevens) and the Park Avenue Group. I doubt many children grow up dreaming of becoming an executive recruiter, I know I never saw myself in this wonderful and rewarding career that has allowed me to achieve more professional and financial pinnacles than I ever thought possible! In fact, as a young boy I dreamt of becoming an astronaut and I started my career as an Aerospace Engineer working with Lockheed Martin/NASA. Shortly after the Space Shuttle Columbia disaster in 2003 I was laid off and I found myself at a professional crossroads. I decided to take my career in a completely different direction when a recruiter who was representing me at the time mentioned that I would be great at recruiting because I had a more unique and extroverted personality than most engineers. I started researching recruiting firms in the Orlando area and rather than taking an easier pathway into the industry by choosing a firm specializing in engineering (I was an engineer, after-all!) I pursued a recruiting position with the most successful and award-winning firm I could find. I found 'The Park Avenue Group' and was blown away by how many awards and testimonials (like the one I'm writing now) they had. I was also very impressed with the resume of the President/Founder (Stacy) who is one of the most accomplished and respected recruiters in the world. Stacy had taken the real-world industry experience of being a commercial banker for 20 years to build one of the most successful commercial banking recruiting firms in the world and I wanted to be a part of that. I managed to score an interview with her after sending my resume and calling a dozen times to convince her I had the talents she needed. She brought me in for an intense interview process and took me through the ringer to see how I would respond. I passed all the tests leading up to my final 1-on-1 with her which ended in this question – "You have the excellent communication skills, confidence, and intelligence to succeed in this industry but I'm still not convinced. You have no consultative sales background, no recruiting experience, and zero commercial banking knowledge. Why should I hire you?"
I looked Stacy straight in the eyes and replied without hesitation:
"Because I'm a winner and will do whatever it takes to always come out on top. If you bring me onboard and invest the time and resources into personally mentoring & teaching me what you know I guarantee that I will become the best recruiter you've ever had"
That strong, confident response got me the job and Stacy followed up her promise by taking me under her wing and personally teaching me everything she knew about the business. I soaked up all this knowledge like a sponge and I'm proud to declare that I backed up my bold prediction by becoming the most successful recruiter she'd ever trained! I held this distinction for nearly 4-years achieving 'Pacesetter' status several times and enjoyed wonderful, all-expenses paid trips to Hawaii and Cancun as rewards. I left the firm after the recession hit in 2008 and the commercial banks imploded but I never lost my passion for recruiting and I always knew one day I would return to the industry. Sure enough, as we dug ourselves out of the pits of economic despair back in 2013 I found myself pulled back into recruiting and am blessed to earned a position as Vice-President of a highly successful firm specializing in…. engineering! LOL, funny how everything always circles back to the beginning in life!
To this day I owe a significant debt of gratitude to Stacy for all the success I've had in recruiting as a result of the personal mentoring she provided me. Our recruiting practices function in completely different industries independent of each other which has allowed us to continue to share best practices with one another without any competitive boundaries and it's been wonderful keeping in touch with Stacy all these years later! I'm proud to call her my mentor, my friend, and the most talented recruiting professional I know and would gladly recommend her to anyone without hesitation!
Kenny Steinbeck – Recruiting Project Manager
I am extremely humbled to work with the best in the business. Since 1998 the Park Avenue Group has been building relationships with elite bankers and some of the highest ranked banks in the country. This alone has set our firm apart from the rest and I admire the reputation Stacy has built. Every day we all get to choose, what we want to do or become when we "grow up."  The Park Avenue Group has given me the means to meet and help individuals from all over the globe and I hold this close to the chest. Stacy serves as the owner, my mentor and a friend who has attributed tremendously to my success. The past 4 years have flown by and yet, I still remember the first day like it was yesterday. Memories are retained by the mental capacity to recall events, facts and processes. I have nothing but extremely fond memories of this firm and of my partner.
Chelsea Deacon – Operations Manager
After graduating from UCF in 2016 I was looking for job stability and found it difficult to find a good, full-time position with the little experience that I had coming right out of school. When I interviewed with Park Avenue Group they saw the fact that I had recently graduated as a positive thing and they were generous by giving me the chance that others had chosen not to. They took the time to train me appropriately and were extremely patient while teaching me about the recruiting industry, as I had never had any prior relatable experience. Stacy and Marc have shown me over and over again through multiple promotions that there is no limit to what I can do and that there is always room to grow within this firm.
I view Park Avenue Group as a little family, not only my workplace. Stacy and Marc foster an environment of continuous learning and they want to see all of their employees succeed. They are passionate about growing their firm with like-minded people-determined, self-motivated, and hard working. I started my journey with Park Avenue Group in June of 2016 as a Research Specialist and have worked my way up to the Office Administrator, there is truly no limit to what you can achieve working with Park Avenue Group. I am very grateful that Stacy and Marc chose to invest in me and give me a chance to show them what I can bring to the table!
Parth Madhubhai – Recruiting Project Coordinator
I had the opportunity to spend almost 3 years at Park Avenue Group. The only reason I no longer work there is that I wanted to pursue a career in the marketing technology space (an interest of mine since college). PAG is a terrific training ground for anyone who wants to learn sales. Recruiting at Park Avenue group is unlike other search firms. You will learn everything, from cold calling (a skill valuable no matter where you go or what you do) to prepping candidates for interviews to negotiating offers for high-level executives, and even client management. You'll get exposure to every side of the sales process. Outside of the experience, you'll also have great mentors like Marc and Stacy who both have their own styles and you'll be able to pick and choose what you think will work for you. Whether you're fresh out of college or have 20 years of experience, I think you'll learn a thing or two at PAG. If you have any further questions about what it's like at PAG feel free to contact me directly on LinkedIn.
Robin O'Donnell – Executive Recruiter- Northeast Region Manager
I moved to the Orlando area after having a successful recruiting career for 23 years in Pennsylvania.  After being in business for myself for many years and dealing with all the responsibilities of owning a business as well as running a desk, I decided that I did not want to work for myself any longer.  I also was looking forward to the comraderie of working with others.
What I found when I started my job search was that companies were reluctant to hire someone who had been self-employed.  When I responded to an ad from the Park Avenue Group, my experience was seen as a benefit.
I have been the Northeast Director of the Park Avenue Group going on 4 years now and the experience has surpassed my expectations.  Stacy and Marc Stevens, while providing all the support and structure anyone could ask for, are open to new ideas and are always there when I have questions or concerns.  The environment is a combination of entrepreneurial and structure, with enough of each to allow me to thrive.
My co-workers are great and I look forward to the interaction we have every day in sharing he details of our personal and professional lives.  It is an atmosphere where everyone tries to help everyone, which is unusual in a competitive business.
I am grateful to Stacy and Marc for giving me the opportunity to start again in Florida and investing in my continued success.
If you think you have what it takes to be a recruiter with Park Avenue Group, reach out to us now.