Leverage Social Media to Increase Reach to Clients and Prospects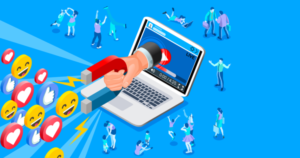 Marketing resources are limited and there's a huge audience to tap into on social media. Getting eyes on your content can feel insurmountable- besides, you're a banker not a PR expert. Douglas Wilbur has written some great articles for the ABA Banking Journal about using social media as a force multiplier in your banking practice.
According to Douglas understanding social selling, how the algorithms work, and tweaking your content so that it isn't overly self promotional are the keys to the kingdom.
Utilizing Your Employees for Messaging
Simple and authentic content shared by actual humans will please the algorithm masters. Currently, content posted to social media will be evaluated and will be given priority if it is deemed to come from a person rather than a company.
Limiting social media posts to only your organization will also limit it's reach to the "community" that the page has cultivated. Providing content for your employees to post on their social media networks will broaden it's exposure to their networks as well.
Here's where partnering with the marketing team will be useful. Have them develop content that can be shared with your teams that they can then share on their social media. Developing your own content to be shared will keep your employees on task. It's important to be in control of the content that is shared on behalf of your business.
Posting Engaging Content
What is engaging content? The age old question that more often than not kills any motivation to engage in social media. It's important to keep in mind that just advertising products and services won't be enough to drive engagement. It's best to post content that can foster a community. If you have employees who are involved in community activities outside of the bank- this is great content to share. Offering tips to common struggles that your audience experiences is a great way to establish your brand as a trusted authority. People love success stories, a brief summary (and how your superior product offering) of how that person was able to deliver for a client is a great opportunity for social media engagement.
Posting content is the first hurdle to overcome. Fostering and growing your budding community is the next task. Once you start to earn engagement from your audience, it's important to engage with them. Commenting and liking on their reactions to your content will continue to foster a sense of community and set you apart from your competitors who "fire and forget" their social media content.
This article from lyfemarketing.com has great examples of companies that are using social media effectively. Their write up of Reebok is especially relevant as they thrive on LinkedIn.
#Hashtags & @ing People
Hashtags are a great way to catalog your content and organize it. Doug Wilbur provides a great summary of the use and effectiveness of hashtags in his article:
Simple hashtags can also help you get your content in front of new prospects who are searching around a specific topic. For example, let's say a thought leader at your institution writes a blog about tax strategies. She should tag #tax and #TaxStrategy in the social post. When consumers go online to find out more about tax strategies, they'll search those hashtags. The thought leader has just inserted herself into the dialogue around that topic. The same goes for #RetirementPlanning, #EstatePlanning, #investments, etc.

Doug Wilbur How Banks Can Boost Engagement and Get More Reach on Social Media
Tagging specific people in your posts is another way to drive eyes to your content. Certainly any community activities should have the organizer personally tagged. To tag someone on LinkedIn (I'll use Austin O'Donnell) you would type @Austin<you will see a small window start to auto fill names> and select Austin O'Donnell. When you post it will alert him that he was tagged in your post. Tagging people in your posts is a great way to have a conversation on line and interact with people in your community.
Social media is an easy way to engage a ton of people with medium effort. Initially, it will take a time investment to get started, as with all projects, once you get it rolling it's smooth sailing. Implementing genuine content, utilizing #hashtags, and tagging people in your posts are simple and quick ways to gain exposure. Good luck and happy posting!
More About Park Avenue Group
Discover how Park Avenue Group rises above the competition, delivering unparalleled solutions and top-tier candidates that allow your business to succeed.