MAJORITY OF HIRING DECISION-MAKERS SAY CHECKING SOCIAL MEDIA PROFILES IS EFFECTIVE WAY TO SCREEN CANDIDATES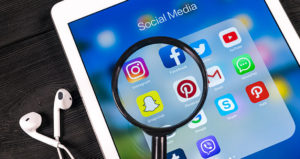 A poll by Express Employment Professionals found that 71% of hiring decision-makers in the US believe looking at job seekers' social media profiles is an effective way to screen applicants.
It also found that 70% believe employers should screen all applicants' social media profiles, and 67% say they use social networking sites to research job candidates.
Of those who use social media to screen candidates, 55% found content that caused them to not hire a person.
The poll included 1,005 hiring decision-makers in the US.
"I do believe social media is a good screening tool to see how the candidate communicates with others in an informal setting and also as a way to screen for potential red flags,"
Said John Calabrese, Express franchise owner in Utica, New York.
Calabrese noted one client rejected an applicant after seeing profanity and inappropriate photos on the candidates' Facebook page.
Jan Riggins, general manager for two Express franchises in Fort Worth, Texas, has also had clients decide against hiring candidates based on their social media profiles. However, Riggins personally doesn't think it is an effective screening tool.
"I do not believe it is an effective way to screen a candidate, especially with the current highly charged climate,"
Riggins said.
"I have many friends, family and acquaintances who I would absolutely screen out for a position by looking at their social media profiles. But I also know they have been incredibly successful in their careers. I understand that people use social media for personal use and to express ideas, beliefs and behaviors they would never take into the work environment."
Others cite more limited ways of checking candidates on social media. Checking an applicant's social media profiles should only be used to validate work history and experience, said Sonja Bielecki, director of strategic HR for the local Express franchise in Grand Rapids, Michigan. Recruiters should receive special training on how to conduct this verification process.
"My professional recommendation is not to use it based on the legal ramifications or risk if not done correctly,"
Bielecki said.
"For my requirements, I only view a candidate's LinkedIn profile and only their experience. Other forms of social media are personal and not professional. Also, those reviewing should be trained not to consider race, age, disability, sexual orientation, religion, etc."
Check out article here
More About Park Avenue Group
Discover how Park Avenue Group rises above the competition, delivering unparalleled solutions and top-tier candidates that allow your business to succeed.