Only 28% of workers expect to return to the workplace by end of 2020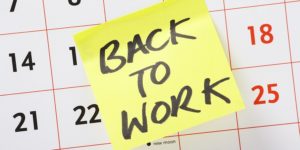 Released on October 8, 2020
Only 28% of US workers expect to return to the workplace by the end of this year, according to a poll of more than 1,100 US workers by The Conference Board. Another 38% expect to return to the workplace at some point in 2021 or beyond.
The poll also found that only 17% feel very comfortable returning to the workplace; 39% are moderately comfortable and 31% are not comfortable.
Low-ranking employees are more concerned than senior leadership about returning. The Conference Board's survey found that 20% of individual contributors and 21% of front-line managers are most likely to feel pressure to return in order to keep their jobs. Only 4% of C-suite executives felt the same.
"These survey results reinforce the need for employers to hear concerns about the pressure that individual contributors and front-line managers, especially, feel to return to the workplace to keep their jobs,"
said Rebecca Ray, executive VP of human capital at The Conference Board.
Women are also more concerned about various aspects of returning to the workplace than men.
Women feel more pressure to return to the workplace, 17%, than men, 10%. In addition, 67% of women are more concerned about the risk of personally contracting Covid-19 while just 61% of men are.
In addition, 39% of women are concerned with lack of adherence to safety guidelines by colleagues compared to 32% of men.
Original author: Staffing Industry Analysts (SIA) | Daily News
More About Park Avenue Group
Discover how Park Avenue Group rises above the competition, delivering unparalleled solutions and top-tier candidates that allow your business to succeed.