Spooky and Safe Halloween Fun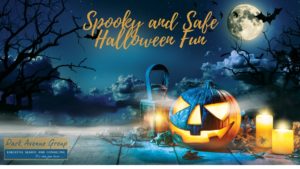 Halloween is approaching and you maybe wondering how you can celebrate it or entertain your kids in a safe COVID friendly way. There are still many things you can do to make this Halloween just as spooky and fun as the past years. Here are 15 safe ideas on ways you can still celebrate Halloween without going trick-or-treating.
Go "ghosting": This is such a fun idea for adults and kids to interact with their neighbors/neighborhoods. You create a goodie bag full of treats with a note that says something creative and for them to pass it along to another neighbor. The note could say "you got booed" or "you got ghosted". You then leave the goodie bag on their doorstep for them to discover after you have left; allowing them to not know who left the treats.
Play a Halloween game: With Halloween on a Saturday this year you have a full day to spend in your costume and celebrate. Creating games to play at home with your kids or friends is always fun. Some ideas are a bean-bag or ring toss, or a game of trivia or charades is always a hit.
Make a spooky snack: Trick-or-treating is sadly not going to be the tradition this year; try channeling more of you energy into creating spooky snacks to share.
And some spooky sweets: Halloween is all about candy and sweets- so its okay to do a lot of baking instead of having candy this year. You could make witch cupcakes, black cat cookies, or choco-pumpkin ice-cream sandwiches. Get the recipe for Spider Web Cake
Do a Tarot card reading: Want to know your future? Do it yourself or hire a professional; light some candles and do a card reading.
Put on a Halloween playlist: Everyone loves dancing, doesn't matter what age you are. Throw on your favorite Halloween songs/playlist and have a dance party or play a game of freeze dance.
Watch a scary movie: Who doesn't love a good classic Halloween movie? Make some popcorn, candy, and set up a spooky area to set the scene, and get that movie rolling.
Attend a trick-or-treat parade: Check out your local newspaper to see if anything outdoors will be happening like a parade or some other social distancing actives. There could be parades, truck or treats, or drive-thru events.
Make a fall craft: Everyone young and old loves carving or painting pumpkins and with Thanksgiving right after Halloween you can always spend some time making crafts for both holidays. A great idea is doing splattered paint pumpkins; paint the pumpkin a solid color and then just splatter a different color of paint all over it.
Decorate: Halloween decorations always get people in the spooky spirit and a smile on kids faces. Make some ghost to hang in the tree, or spiders to put all around the front door. Just a little decoration can go a long way.
Host a virtual party: Since the pandemic everyone has gotten familiar with virtual interaction. Get your friends together, pour a drink, put on a costume and start a Zoom or Facetime party.
Paint your kids' face: What kid doesn't like getting their face painted? You may say "well I'm not artist", you don't need to be. Do your best, ask your kid what design they'd like you to do and just try your best. You can even take turns on painting each others face.
Mix a spooky cocktail: Anyone 21+, make a custom witch's brew cocktail or mocktail. A great idea is to freeze plastic spiders into an ice cube tray and put them in your drink.
Go on a family bike ride or walk: Enjoy the cooler weather, nature, and some exercise. You can ride by your neighbors decorations or a pumpkin patch.
Deliver festive treats to loved ones: For those you can't see in person send them a sweet treat that's Halloween themed, monster-inspired rice Krispy pops are always a hit.
All 15 ideas are great for families and hopefully you can try one or a few this year, you never know it could be a new tradition. Check out the article here.
More About Park Avenue Group
Discover how Park Avenue Group rises above the competition, delivering unparalleled solutions and top-tier candidates that allow your business to succeed.