Trolls in Your Digital Meetings Got You Down? Lock Down Your Meetings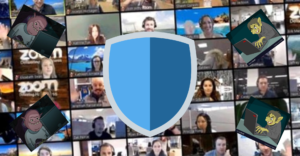 As many of use transition to working from home, we're now using video conferencing to interact online. Now trolls are targeting these meetings and doing what they attempt to do best, inconvenience/annoy users. It's gotten so prevalent that this harassment is called "zoombombing" Fortunately for meetings users, it's easy to keep trolls out.
Locking down your meeting
Sharing permissions- To prevent screensharing hijacking, it's best practice to set the meeting so that only the host can screen share. This is usually found in the advanced sharing options, right next to the sharing button in the meeting. We set ours by default to only allow one user at a time to share their screen. These settings can be changed on the fly should another attendee need to share their screen.
Posting guidelines- we recommend that all meeting links/invites stay within your organization via email or internal chat apps (Glip, Slack, Microsoft Teams, etc.) or emails. Posting links on social is a great way to attract strangers/zoombombers.
Meeting Passwords- if you absolutely have to share a meeting online to attract a large audience, enable a meeting password and share it with people who are invited to your meeting via direct message.
What kind of meetings are you having?
We have 2 meetings at Park Avenue Group, a morning meeting with tips and tricks that we picked up from the day before. Our last meeting is an end of day wrap up. We set three goals for the day, compare how we did against our goals. If we have to, we analyze how to stay productive and to keep striving for excellence and encourage each other.
As a bonus we do a Thursday happy hour just to let off some steam and participate in some camaraderie. Morale is important now more than ever!
More About Park Avenue Group
Discover how Park Avenue Group rises above the competition, delivering unparalleled solutions and top-tier candidates that allow your business to succeed.