Updated Terms to The Paycheck Protection Program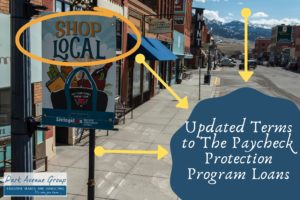 Banks have been supporting 26 states that are customers and non-customers with funding from the Small Business Administration Paycheck Protection Program.
The application process will go through June 19th to help the documentation collection phase prior to June 30th, which is the last day to receive SBA loan approval. Completing the application by June 19th, does not guarantee funding.
About two months ago the SBA PPP applications opened up in response to the Coronavirus. Since the recent action from the administration and Congress to approve the PPP Flexibility Act, it has provided changes for both the origination and forgiveness process. The changes include:
Extended the coverage period from 8 to 24 weeks to incur costs, allowing for more expenses to be forgivable.
Funds are provided in the form of loans that will be fully forgiven when used for payroll costs, interest on mortgages, rent, and utilities (due to likely high subscription, at least 60% of the forgiven amount must have been used for payroll). Loan payments will also be deferred for six months. No collateral or personal guarantees are required. Neither the government nor lenders will charge small businesses any fees.
Forgiveness is based on the employer maintaining or quickly rehiring employees and maintaining salary levels. Forgiveness will be reduced if full-time headcount declines, or if salaries and wages decrease.
Payroll includes salary, bonuses, draws, healthcare, vacation and other paid benefits PLUS company match on 401k contribution for the covered period.
The 60% threshold is not an all or nothing factor. IF your payroll expenses are at least 60% or greater AND your utilities, rent/interest payments cover the remaining 40%, 100% of the loan will be forgiven.
The covered period for any new PPP borrowers will be 24-weeks, but cannot extend beyond December 31, 2020.
New loans will have a 5-year term; extended maturity date and payment deferral. No payments that were borrowed will have to be paid back until the SBA has completed its loan forgiveness within 10 months, payments must begin at the end of the covered period.
New loans granted after the date of enactment will have a minimum repayment term of five years. If you have an existing loan and your lender agrees, your two-year loan can be extended to up to five years.
Overall, this is an amazing program that was executed in a short amount of time to help small businesses stay afloat.
More About Park Avenue Group
Discover how Park Avenue Group rises above the competition, delivering unparalleled solutions and top-tier candidates that allow your business to succeed.