5 Key Hiring and Workplace Trends To Look Out For in 2023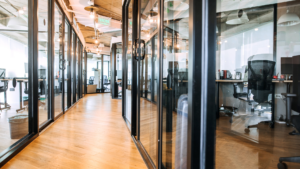 This year, the Indeed Hiring Lab and Glassdoor Economic Research teams partnered to predict what changes we might expect in the labor market over the next few years and how those trends could shift the future of work for all involved.
The result? The first collaborative Hiring and Workplace Trends Report from the two companies, full of data that impacts companies and job seekers alike.
Job seekers already know that the COVID-19 pandemic altered the way we do business. In some cases—like with remote work—those changes are likely permanent (more on that soon!). The pandemic also shifted bargaining power to workers and showed them what they might expect when it comes to fighting for better working conditions, happiness and wellbeing at work.
Today, we'll talk about five major trends from the report and what they mean for job seekers in 2023. Read on to learn more!
1. A tight labor supply will continue to buoy job-seeker bargaining power
Across the world, due to population decline within working-age demographics, companies are projected to have more jobs than there are workers to fill them.
This means that job seekers may have the upper hand and more power to lobby for what they want. Think: more money, better benefits, flexible schedules and more! Now more than ever, job seekers can determine what they really want and need from a company and try to make that happen.
This tight labor supply also means that, if workers retain their bargaining power because the number of available jobs continues to outnumber available workers, union efficacy may also increase. We know that post-pandemic, the majority of Americans approve of unions as a means to further and protect employee interests. Short of any drastic changes in the job market, we might expect to see more unions and organizing on the scene.
2. Remote work is here to stay
Think back to those early days of the pandemic. People shifted to remote work for what they thought was going to be a few days or a week. Over time, everyone started to realize this was actually "the new normal." People also began to understand that some jobs could be done away from the physical office, which was revolutionary for many industries.
While a lot of us were forced into virtual work at first, many companies discovered that they were still able to sustain and perhaps even grow their businesses—with added benefits to all. Companies were able to peruse a bigger pool of qualified candidates around the world, and employees had more autonomy and control over their schedules and work-life balance.
On Indeed, we see that job postings for remote jobs are higher than they were before the pandemic, and searches for remote jobs are incredibly popular among job seekers. If you're interested in remote work and looking for a role right now, there's a good chance there are suitable jobs out there for you.
Of course, there will probably always be jobs that can't be done virtually—but the pandemic certainly widened the scope of jobs that we now know can be done in a remote environment.
3. Creative benefits packages will give job seekers more to consider
Inflation. We're all likely feeling it, and job seekers want more compensation as a result.
More than any other reason, people have been seeking out new roles across industries because they want to make more money. At the same time, it's not always practical for companies to simply increase salaries for their open positions.
What some organizations are doing instead is adjusting their compensation packages to bolster more traditional benefits and aggressively advertising these benefits to attract more candidates to their open positions.
This means that job seekers may see companies offer more time off, better health insurance coverage, and more generous retirement plans. Remember this is all part of total compensation, even if it's not a direct increase in salary!
Other benefits you may see include:
Free lunch and snacks in industries where this wasn't previously the norm (retail and manufacturing, for example)
Commuter benefits: free parking, transportation reimbursement
Mental health care
Benefits like these sweeten the pot for job seekers and can be the deciding factor when you're choosing between two companies. Again, it's important to decide what really matters to you and use that as a guidepost moving forward.
4. People will expect a sense of happiness and wellbeing from their work
Beyond compensation, a major factor in your job search may be how your company and role make you feel. To that end, organizational culture matters, and many job seekers are searching for a positive company culture that will contribute to their quality of life.
It's natural to want to leave work every day feeling purposeful and satisfied. As with other trends we've covered, the pandemic only enhanced people's expectations of what's possible in the workplace and what they feel they deserve.
In fact, almost half of people say their expectations around happiness at work have gone up over the last year!
Want some help vetting companies? You can use Indeed Work Happiness Scores to gauge how important your happiness and wellbeing are to a potential employer, or to see how people who work at that company feel about it. This can help you understand what to expect as you apply for roles, accept interviews and beyond.
5. The importance of DE&I initiatives will continue to rise
With younger generations officially entering the workforce, there has been an increased push for diversity, equity and inclusion (DEI) to become a foundational part of companies' hiring, recruiting and retention efforts.
We know that age is the primary determinant in whether a person thinks DEI efforts belong in the workplace, with younger generations being affirmative on the matter. This means that as more young workers secure roles, DEI will become not just a "nice to have" but a non-negotiable in order to attract and retain talent.
Younger folks are looking for "standard" DEI initiatives like employee resource groups and mentoring programs, as well as gender and racial equity among leadership—and they're willing to turn down job offers if the company doesn't offer those things.
If you are looking for a job with strong DEI initiatives, you'll need to do some research to ascertain how inclusive and progressive a company's values are. As with happiness and wellbeing, you can use Indeed Work Happiness Scores to assess how inclusive a particular company is and review people's experiences working for that employer.
More About Park Avenue Group
Discover how Park Avenue Group rises above the competition, delivering unparalleled solutions and top-tier candidates that allow your business to succeed.