Park Avenue Group (PAG) Welcomes Robert Gutierrez as Director, Expanding Banking Practice Reach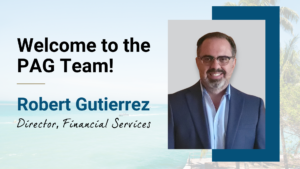 Adding Robert Gutierrez will strengthen PAG's ability to provide search and recruitment services in Florida and throughout the U.S.
(Rochester, MI) — Park Avenue Group, a subsidiary of Angott Search Group (ASG), is pleased to introduce Robert Gutierrez to their thriving Financial Services Practice. The addition of Robert, who joins as a director, will further expand the firm's search and recruitment services throughout Florida and the southern region of the United States.
Gutierrez has an outstanding recruiting background, having spent over twenty-five years representing clients ranging from small community banks to regional and global banks. His vast knowledge of recruiting for unique verticals such as business banking, credit, treasury management, agriculture, middle market banking, commercial real estate, operations, and compliance, will allow him to skillfully use his creative methods to attract and retain exceptional talent.
Chairman & CEO, Mark Angott remarked, " Given Robert's industry-recognized integrity, extensive experience, and his ability to cultivate strong relationships, he is bound to motivate and empower top performers. This will not only enhance the financial outcomes for our banking clients but also facilitate our expansion in Florida."
Gutierrez expressed his enthusiasm about joining ASG, stating, "I am excited to be a part of PAG and contribute to the growth of their Banking Practice. Park Avenue's renowned reputation, coupled with their strong core values, resonates with me on a professional and personal level. I am eager to leverage my expertise to connect outstanding banking professionals with transformative career opportunities and contribute to ASG's continued success."
With the addition of Robert Gutierrez as Director of Financial Services Practice, ASG is poised to further elevate its service offerings, reinforce its market presence, and continue providing unparalleled value to clients across industries.
Mr. Robert Gutierrez can be reached at:
Direct: (786) 685-3030
Email: robert@parkavegrp.com
For media inquiries, please contact:
Stephanie McPherson, Marketing Director
About Park Avenue Group:
In business since 1997, PAG has provided the banking and credit union industries with results-driven trusted advisory talent services. Their founder and CEO, Stacy Stevens, spent the first 20 years of her career as an Executive in Banking with several renowned financial institutions. Headquartered in Orlando, Florida, Park Avenue Group has the knowledge and deep industry experience to custom tailor search solutions to match client needs.
About Angott Search Group:
Angott Search Group is a nationally recognized, full-service executive search firm with over forty years of experience building solid corporate partnerships by matching our clients' culture, goals, and expectations with exceptional people. As a tenured team of consultants, our focus is to provide insightful hiring and recruitment solutions for employers looking to attract top talent to strengthen their organizations.
More About Park Avenue Group
Discover how Park Avenue Group rises above the competition, delivering unparalleled solutions and top-tier candidates that allow your business to succeed.