Chime Entering the Digital Banking Ring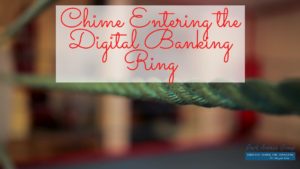 Digital banking has been sky rocketing ever since the pandemic has started. Chime is strictly a digital banking platform that doesn't have a single bank branch. Since the pandemic has started many people are not comfortable going inside a bank and rather do it online. The revenue in 2020 and transaction volume has tripled just from Chime; its been signing hundreds of thousands of new customer because they are ditching big banks. According to PitchBook in just 18 months Chime's private market has spiked by a staggering 1,015% to $14.5.
The CEO of Chime Chris Britt told CNN Business
"We've gone through explosive growth, We're a company that's in the right place at the right time because so many Americans are feeling anxiety about their money."
The best feature Chime has is early access to your paychecks. They are known for giving Americans early access to their paychecks through Get Paid Early when they use their Chime account to sign up for payroll.
Fee-friendly, interest-rate resilient
Chime is not an actual bank, its owned FDIC-insured accounts are held at partner banks including Stride Bank, even though it competes with banks for checking and savings accounts. From lenders, Chime is just a consumer fintech company.
Chime does not rely on fees that normal consumers despise of, instead they earn small fees from Visa whenever a user swipes their card. They also offer a feature to help with overdraft called SpotMe. This feature allows users to take their account negative without incurring a fee.
"The big banks are good at serving the top 20% or 25% of Americans. Everyone else in the middle feels nickel-and-dimed."
Said Britt
Also Chime is not at the whims of the Federal Reserve and the bond market. Luckily Chime does not have a lending business because it is not being hurt by rising bankruptcies nor historically low interest rates. These trends are helping Chime by having the investors around the world become desperate to generate healthy returns on their cash. Which is causing them to gamble on stocks, and plow money into fast-growing start-ups like Chime.
"Investors really like the predictability, recurrence and margin structure of our business model. It's very predictable and not subject to the credit cycles,"
Said Britt
Early access to stimulus checks
Last month Chime raised $485 million in funding's, which brought it to a total fundraising haul to $1.5 billion.
"The pandemic has favored financial services that are fully digital, user friendly and easy to sign up,"
Robert Le, senior fintech analyst at PitchBook, said in an email.
This Spring Chime made a huge bang allowing users to access their stimulus checks 5 days early. Which totaled to be $1.5 billion in government stimulus payments.
"That created huge buzz and drove some of our biggest enrollment days in the history of our company, We have a high degree of empathy for challenges everyday Americans are going through. One of our core values is to be human and to understand the needs of our customers."
Britt said.
Will Chime get into lending?
Chime is facing a major challenge trying to live up the hype that comes along with its skyrocketing valuation.
In the article This startup is taking on big banks. And its working. PitchBook's Le said
"The company will be hard-pressed to remain on its growth path to prove that it commands the hefty valuation, which is currently over 20x revenue,"
Competition is also another obstacle that Chime struggles with because it targets higher-earning customers who are already customers with Chase and other full-service financial institutions. Chime did a lot to become visible by spending a lot on marketing, it inked a multi-year brand partnership with the Dallas Mavericks. Chime became the NBA franchise's official jersey sponsor.
For American's to boost their credit score, in June Chime rolled out a no-fee Visa credit card. It does not require a credit check because its backed by a secured account that has money in it ahead of time.
The "next chapter" Chime plans for is to push further into lending, potentially through an unsecured credit card. Eventually it will be considered to add an automatic basic investment platform that features ETF-s and other low-cost financial products.
Going Public?
Over time Chime will be an independent publicly trade company but not through a SPAC, or a special purpose acquisition company. Chime does not have an urgent need to raise cash through an IPO and SPAC is likely not the right approach.
More About Park Avenue Group
Discover how Park Avenue Group rises above the competition, delivering unparalleled solutions and top-tier candidates that allow your business to succeed.