COVID-19 Aftermath in Medicare Centers & Medicaid Services.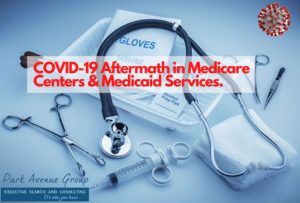 In the aftermath of the COVID-19 pandemic, Centers for Medicare & Medicaid Services (CMS) said Wednesday it will be reducing the risk and some deadlines for payment models. Their goal is to reduced the monitoring burden and maximize providers' flexibility while they keep addressing the financial and technical obstacles from COVID.
Did you hear what could possibility happen through the year of March 2021? The CMS for example, is trying to eliminate risk by capping actual episode payment at the target price for care during the public health emergency. The fifth performance year will probably be extended through March 2021.
One concern that healthcare providers have is it will take decades for a long-term shift to value-based payment reform. Medicare and Medicaid Innovation Center models have tried to be operational but also flexible so that provider networks do not drop out because of financial tolls that happened in March and April.
"Of course, when it comes to a pandemic of the proportion we're now experiencing, as part of ensuring that value-based payments are sustainable, the models must be adjustable to address the uniqueness of the current situation,"
CMS Administrator Seema Verma wrote in a Health Affairs blog post about the changes.
Late in March after the announcement was made to the Medicare Shared Savings Program, Hospital Readmission Reduction Program, Merit-Based Incentive Payment System and other models.
Due to the pandemic more than half of its participants have feared incurring losses from group purchasing organizations. Due to equipment shortfalls and overworked staff in many parts of the country for an extended period. More changes have to published which are; removing some shared losses in the Next Generation ACO model, removing episodes of care for treatment of COVID-19, canceling the 2019 quality audit and extending the model through December 2021.
On Wednesday the National Association of Accountable Care Organizations made a statement saying they are happy with the extension and that the Direct Contracting Model has accepted a second round of applications. But before they can begin the second round they would like more details on the risk and patient population.
There is an opportunity for CMS to remove clinical episodes from the third model which is offered by the Bundled Payments for care improvements; it will measure the payments for 90-day clinical care. As well as delay next month's introduction of the Emergency Response, Triage, and Transfer Program which is a cost savings for ambulance services.
Check out this article
More About Park Avenue Group
Discover how Park Avenue Group rises above the competition, delivering unparalleled solutions and top-tier candidates that allow your business to succeed.