Digital Banking's Glow Up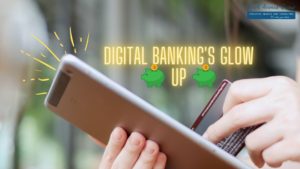 Have you noticed that many businesses are moving a lot of their information online? Stores are doing live streams of clothing sales, restaurants providing an online menu, online appointment making and consulting, and banking services being provided. Many Banks are starting to invest in online experiences to gain more customer engagement.
As technology improves, banks are striving to provide the best options to attract and retain customers. Having flexibility to meet with customers and personal support at the tip of their customer's fingers is what will gain them more market share.
For example, home loans can be done online in 10 minutes or less at home; even though others may want personal support or some combination of the two. That is where the flexibility in all areas of the banking industry will expand to meet customer needs in today's modern world.
With everything that has happened in 2020 recently (COVID-19), many companies are providing multiple social distancing options, which is where customer interaction online comes into play. Banks are shifting their services to drive-through and appointment-only while also shifting 70% of employees to work from home. As banks have shifted to many digital options, their customers have found themselves suddenly trying the online option for everyday banking like depositing checks and sending money.
You maybe asking yourself what does this mean for customers? Well as technology keeps advancing everyday here are a few ways your business can provide the best services for customers. (read more in detailed points here)
Added Convenience
Empowered Businesses
Advanced blend of digital and personal support
The "new normal" as companies continue to move forward will be to enhance digital customer service. Adapting to the economic lock-downs and social distancing has expedited many companies' investment in technology to serve their customers and help employees work outside the office. Expect banks to start being more convenient than ever through advanced digital tools as they respond to external forces and adapt to customer needs.
More About Park Avenue Group
Discover how Park Avenue Group rises above the competition, delivering unparalleled solutions and top-tier candidates that allow your business to succeed.