Extended Lock-Down Crippling the Banking Economy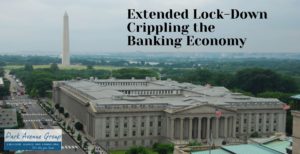 Extended lock down orders in response to the pandemic have had a profound effect on banking. On Monday mayors and governors were warned that if the pandemic shutdown got extended it would increase loan defaults, and degrade the value of assets. Acting Comptroller of the Currency, Brian Brooks wrote in letters to the National League of Cities, the U.S. Conference of Mayors, and the National Association of Governors-
"The nation's mayors and governors should be aware of a set of risks to the nation's banking system created by continued state and local lockdown orders. Certain aspects of these orders potentially threaten the stability and orderly functioning of the financial system the OCC is charged by law to protect."
Assuming control of the Comptroller of the Currency on Friday (5/29/2020), Brooks finds himself embroiled in the debate of re-opening of the economy. Balancing the health risks and the economic impact of the pandemic is a hotly debated topic among partisan lines. The other two regulatory bodies (FDIC and the Federal Reserve) have not issued similar statements. However, Fed Chair Jerome Powell believes that a second outbreak could harm public confidence and cause worse economic pain.
Brooks also writes-
"essentially indefinite" business closures in certain cities and states. Requiring businesses to remain closed decreases businesses' ability to service their debt, thus increasing default risk in the banking system. Lengthy business closures also reduce the value of collateral securing commercial real estate because of increases in burglaries and vandalism of vacant strip malls, storefronts, and the like; in those cities considering cutting off electric, water, and other utilities to businesses that choose to remain open notwithstanding lockdown orders, the degradation of the physical loan collateral exposes banks to higher loss severities. During a period of double-digit unemployment and stresses caused by local responses to COVID-19 to previously safe and sound business and commercial real estate portfolios, actions that exacerbate that risk may prolong and worsen an economic downturn, reduce the availability of credit and capital that would support recovery, and result in safety and soundness issues that are especially significant for smaller community and regional banks with business concentrations in these areas."
Brooks reminds that banks and savings and loans institutions are well capitalized and have been instrumental in delivering the aid from the CARES act to Americans in need. It is important to Brooks that these mayors and governors re-evaluate their "indefinite" lockdown policies to the detriment to the economy.
More About Park Avenue Group
Discover how Park Avenue Group rises above the competition, delivering unparalleled solutions and top-tier candidates that allow your business to succeed.