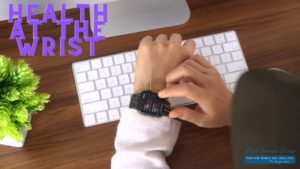 Staying at home has sparked a trend of working out at home and/or daily walks to stay healthy. There is a wearable device that can track your heart rate, electrical signals, blood-oxygen levels, temperature, sleep and, yes, steps.
In the late 2000s the first connected wearable arose as smartphones began to boom and early step-trackers came from Fitbit and Jawbone. Before COVID even hit this trend was already growing. Mathie Letombe has started pushing deeper in the medical device industry by creating blood-pressure monitors, sleep trackers and EKG monitors in its watches. Some healthcare providers can sign up to have patients data sent from wearable devices and follow up on any troubling issues the patient maybe having. An example would be if someones blood pressure is spiking, their provider can see that data in real time from their patient's watch.
Once the pandemic hit many hospitals requested for a ScanWatch which can check things like blood-oxygen saturation and sleep apnea. With this watch the officials could keep an eye on their patients during COVID. In France the government allowed the watch to be released sooner than it was expected just for that reason. Patients using this device freed up many beds in French hospitals.
With Med Pro, or similar systems developed by other companies like TytoCare or Vivify Health, the goal is to produce an ever-constant stream of information that patients and their doctors can take action on when issues arise, not just when they have a physical scheduled.
Letombe said this in the article talking about wearable devices.
Thinking towards the future this wearable device could help people realize they are sick even before they are seeing symptoms. With these devices like Apple, Oura, or Withings- it could help lead to a revolution in the way we take care of ourselves. The demand for these devices keeps increasing; last quarter nearly 120 million wearable devices were shipped globally.
With Med Pro being more digitally native some health care providers have jumped on more quickly to the program. Letombe says the trick to selling the wearable is selling to the digitally-savvy director or clinician and have that person sell to the rest of the team. As a patient you should expect more remote monitoring and more connected devices regardless of the pandemic.
More About Park Avenue Group
Discover how Park Avenue Group rises above the competition, delivering unparalleled solutions and top-tier candidates that allow your business to succeed.