J.P. Morgan on the state of life sciences and strategies to fuel innovation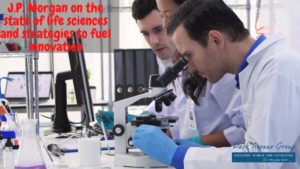 In an interview, Peter Meath, J.P. Morgan's co-head of Healthcare and Life Sciences, Middle Market Banking & Specialized Industries, says the Covid-19 pandemic has cast a bright light on the life sciences industry with startups raising venture funding at record levels as the virus has transformed the way people usually do business in the sector.
What are some of the headwinds you see life science startups navigating now compared to previous years? Is there a silver lining to being an early stage life science company in a public health crisis?
If you recall back to the 2020 J.P. Morgan Healthcare Conference, in January, and think about what life science companies were facing at the time, it was a good capital environment. We had a fairly robust IPO market and the venture market was doing very well. But at the same time there were headwinds that people weren't concerned about that we were keeping an eye on, such as drug pricing and healthcare reform. A big question mark that was inevitably going to come up in 2020 was around whether capital requirements would remain robust.
The pandemic has had an interesting effect because this is a life science-centric problem. All of a sudden there was a very bright light shown on the life science industry that hadn't been there. As a result we had an evaluation of the industry by people who had not previously been involved in the sector. We had private investors and public investors who all of a sudden were interested in the space. That was really unprecedented. We saw significant liquidity come into the sector in a relatively short period of time. The first half of the year saw the most venture capital financing in the history of the life sciences industry. This year – to date – almost rivals all of 2019, creating quite a bit of opportunity for companies to grow in an accelerated fashion.
That being said, there are still questions like: How do you go about attracting capital virtually? How do you raise a Series A or B round virtually? How do you do an M&A deal virtually? That certainly has been a challenge. This and networking in general have been turned upside down during this crisis, but entrepreneurs have adapted extremely well and so have investors. The silver lining is there and it's ripe with opportunities.
We've seen many companies pivot in response to the Covid-19 crisis. We have companies that stepped up and addressed the diagnostic issues, the personal protective equipment shortages, the ventilator shortages and obviously, the need for vaccines. We have many companies in our portfolio that, all of a sudden, found themselves developing vaccines in an extremely accelerated time frame and attracting quite a bit of both public and private capital to do that. All of this has happened in a very short period of time and at a pace I don't think anybody really thought possible. So those needs have created opportunities for life sciences companies.
Can you offer some examples of these opportunities?
We also see businesses with technologies that realized they could apply them to a path of development for Covid-19. So all of a sudden they've found themselves in an accelerated development cycle and are trying to get that out to market as fast as possible. And that momentum has been really great to see.
One of the great things about the life sciences space is the amount of collaboration that naturally happens. During this great public health crisis, life science companies that previously were competitors, private and public companies, government and nonprofit, all came together in very short order to share information and resources to try to address it.
This is an unprecedented event. Vaccine development is costly — they are challenging to manufacture and difficult to put through clinical development. This crisis has made people realize that we need to remove barriers to improve economic incentives for partnerships between public and private companies and nonprofits to ensure we are prepared if we find ourselves in this situation again.
What has impressed you about how life science startups have responded to the crisis?
What's been interesting is seeing companies that had forward-looking technologies but were growing gradually that have been able to apply those technologies to challenges like addressing the ventilator shortage or efficiently disinfecting hospitals and medical equipment with UV light. These are the sorts of companies that, a year ago, might have just seemed interesting… and all of a sudden, find themselves with applicable solutions to very real problems. And the speed by which they pivoted to address these problems has been impressive.
What I've always loved about working in the life sciences sector is that underlying everyone's business model or plan is a mission to improve human health. For many, it's based on healthcare challenges that hit close to home. It's great to see how people have stepped up in this environment.
What are some of your success stories from the past year?
I admire the efforts and successes of those serving on the Covid-19 front lines, like my sister-in-law, who is a nurse. She's juggling kids at home in addition to her job. It's also been gratifying to see companies that have launched, run a funding round, run diligence — all virtually — and have been very successful. We've been able to adapt to this current environment and companies have been able to attract capital. It speaks to the underlying value of what they're building.
How has J.P. Morgan and your team navigated and supported networking online between healthcare startups and investors? Is it possible to do that well in a virtual world?
There was understandable uncertainty early on in the pandemic, but what we quickly found is that conversations around business development were easier to do than we thought. Previously, many stakeholders were on airplanes and running in and out of meetings. Suddenly, they were much more available, so we had the ability to access people in a more efficient, timely manner to get conversations going. Their increased availability has made it easier to build consensus on decisions and execute on transactions virtually rather than just having conversations about transactions.
If you talk to anybody in venture or people in Big Pharma, they have adapted to bring the right stakeholders and decision makers into virtual meetings and get things done in a really effective manner.
Although people are going to want to return to some semblance of normalcy in the future, this experience has made people more comfortable getting things done in a virtual environment in an accelerated way.
Is it fair to say you are seeing deals get done faster than before in this environment?
Yes. Before this public health crisis, entrepreneurs raising a new funding round would fly to a meeting in Boston or San Francisco and have one or two meetings a day. Now these entrepreneurs are having five to six meetings per day while working virtually. So actual conversations are happening at an increased level. I think that's a good thing.
What does JPM look for in biopharma, diagnostic and medtech startups? How big a priority is precision medicine/gene therapies/immunotherapies?
It's no surprise that cell and gene therapies and immunotherapy are still very hot across the life sciences ecosystem. With medtech, we've gone through a renaissance due to blurring of the lines between medical devices, software analytics, data analytics, and AI.
One question I get all the time is, 'How early stage of a company would you like to see?' If you are an entrepreneur starting a company out of the university lab or an incubator or you're raising capital, we want to talk, because that's how many life sciences get started. Certainly a lot of venture-backed companies get incubated inside the venture funds. I think where we can help startups is to help entrepreneurs understand at the beginning of that journey what they can expect from a financial support perspective, as they go through various stages of growth.
In the life sciences sector, perhaps more than medtech and health IT, investors are making bets long before companies are generating revenue. They are taking greater risks.
There's more innovation in life sciences right now than I have seen in my entire career. It's not even close. So to your point, the way people look at the value of a company is by looking at the value piece of potential. But there's certainly enough data to show a lot of value modality approaches; some of the old problems that will bear fruit over time. Medtech and devices have always been a different challenge. The reimbursement issue is different as is the sales cycle. But particularly in healthcare IT, there's quite a lot of innovation happening – how actual healthcare delivery is going to happen. And you see a lot of medical device companies layer on the software solution. They're all becoming data companies.
AI, data analytics and life sciences are overlapping at an accelerated pace every day. I don't think that's going away. We will have to parse our near-term benefits and what a more long-term value proposition looks like.
A good example of a low-hanging fruit opportunity would be clinical trial management. Can we use data analytics and AI to better run clinical trials, improve protocol development, and improve the way data is gathered and shared to make this process more efficient and less costly? This will benefit companies in terms of capital and time. Then we've got the bigger picture: Pure drug discovery where companies use the drug discovery function to advance new drugs at a quicker, more efficient rate. That's going to take time to prove out.
I lived through the high-throughput screening phase decades ago. There was a lot of promise that 'this and other technologies are going to revolutionize drug discovery. Drugs are going to be much quicker and easier to produce.' I think what people found is that developing drugs is very difficult. It's been proven for quite a long time. It takes time to see where the application bears fruit.
I don't think trying to apply technology towards more rapid drug development is going away, but entrepreneurs need to be cognizant when building an advisory board and having a mentor, that if this is going to be a part of your value proposition at some point, they need to bring in skills and core competencies around that universe.
What are some of the services you have rolled out for early stage companies?
My group started a few years ago with a dedicated strategy: Focus on providing more customized resources for life science companies. When it comes to banking, there are several qualities entrepreneurs in life sciences and other industries expect and value from their funding partners. J.P. Morgan offers resources for multiple areas of the financial sector, whether it's commercial banking, private banking or wealth management, that can meet entrepreneurs' unique needs. We have solutions geared to both startups and more established companies. Our treasury platform, for example, is built to grow with companies over time as their needs evolve.
Early on in the lifespan of a business, banking needs aren't complex. But the needs of life sciences companies can grow extremely fast — much more accelerated than startups in other industries. So having a platform that can grow organically, seamlessly and transparently, is very important. Other solutions like card, debt, and international services get layered during the lifecycle of a company and we've tailored them specifically for the needs of this industry.
From an entrepreneur's point of view, what value does J.P. Morgan offer that differs from other industry partners or investors?
Entrepreneurs don't want to have to worry about their money service provider. First and foremost, entrepreneurs need the capabilities, solutions and services to do anything that they need through their growth stages. We have institutional knowledge, capabilities and solutions that are unparalleled, to be able to help entrepreneurs with whatever problems they may encounter, on an operational banking front, but also on a capital needs front, markets-related front, or an asset management front.
If you're an entrepreneur and you're thinking, 'Who am I going to pick as my partner?,' you want to pick a partner that not only has the best possible solutions and services for you, but also one you know will understand when new solutions and services are applicable to you and should be available for you and at when. Having a partner that has the ability to help you proactively organize and plan for future needs can be key to your success.
More About Park Avenue Group
Discover how Park Avenue Group rises above the competition, delivering unparalleled solutions and top-tier candidates that allow your business to succeed.