Rebooting Your Business In The New Economy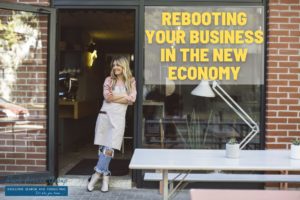 The coronavirus pandemic has had an enormous impact on the global economy. Nearly every industry is coping with decimated workforces, decreased sales and projects on hold, but now things are beginning to look up and companies are looking to develop strategies for rebooting their businesses. But when and how should you do it?
According to a recent article in Forbes, "the smart way is to reboot only the parts that can be successful. The world is never going to be the same as it was before COVID-19. Assess what's changed temporarily, permanently, and fundamentally across customers, collaborators, capabilities, competitors and conditions." 
But by taking proactive steps, you can put your business in a better position to recover more quickly once the crisis is past:
Evaluate how the epidemic has affected your customers.
Depending on what industry you're in, your customers might be having some specific new problems related to coronavirus. Think strategically about how you can help them. Then adjust your marketing around how to address the challenges they face and reposition your products and services to be helpful.
"This will require a reboot of your marketing/sales funnel," says Forbes. "Everyone's world has been reset. Everyone's reevaluating their choices. Don't assume your customers will come back automatically. Instead, rebuild awareness and then interest, so you're in their consideration set when they desire a product or service like yours, and turn that into action."
Drill deeper into markets that have served you well.
This isn't a good time to test new markets. Instead use your time and resources to go deeper into markets that have been profitable for your company. Understand who your loyal customers are and deliver those products and services they need.
Seek out new sales channels.
You may not be looking for new markets right now, but you can find alternative ways to sell in your current markets by boosting your online marketing efforts and e-commerce sales. Strengthen your inbound marketing practices by initiating more conversations on social media and targeting your message to the specific needs of your customers.
Prepare for pent-up demand.
The post-coronavirus economic recovery might be faster than you expect. If you cut back too far, you might not be positioned to capitalize on the post-crisis recovery. It's important to remember that consumption has been driven down because businesses were forced to close, not because the businesses were doing poorly. Once they can begin to operate again, many economists predict that consumption that has been postponed will resume very quickly.
Invest in your employees.
"Your teammates are your most important asset," says Bert Miller, president of MRINetwork, "so in the midst of anxiety about rebooting your business, don't forget to continue the effective practices you valued before the crisis. Focus on increased communication and engagement. Implement flexible working arrangements. Recognize and reward your best performers  and provide enhanced learning and training opportunities for individuals who demonstrate potential. And most importantly, make the mental wellness of your people a priority and ensure they feel cared for and valued."
More About Park Avenue Group
Discover how Park Avenue Group rises above the competition, delivering unparalleled solutions and top-tier candidates that allow your business to succeed.