The Push To Serve The Unbanked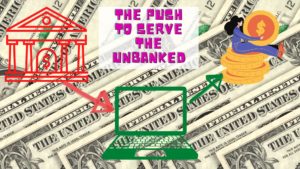 Did you know more than a quarter of US households lack access to a basic bank account or any basic financial services? This group of Americans have been hit hard due to the health crisis. With their lack of direct deposit capability they have to resort to expensive payday lenders to cash their payments.
Who are the unbanked? They are individuals that have no checking or savings account. They have an income but its often inconsistent and they don't follow a structured budget. These unbankers range from young adults to 65 year old.
As an unbanked individual they feel they don't have enough money to keep an account open with a financial institution. 30% of these unbankers don't trust banks, and 9% find it inconvenient to use a bank due to the location or hours. Many of these unbankers turn to money orders, check cashing, and payday loan companies – more expensive options that aren't an ideal substitute for real banking services.
There are three basic needs that the unbanked need; electronic funds access, a debit card, and the ability to quickly access cash. With traditional banks unable to meet these needs, nontraditional banks are stepping up to the plate to help with these challenges.
A way individuals can get access to their money fast will be from digital-only banking options and reloadable general-purpose prepaid cards which will be the forefront to the unbanked. The Bill and Melinda Gates Foundation is developing a digital payment system for the use of reliable digital financial services quickly and affordably.
The traditional banks are rethinking their engagement with the unbanked population after seeing so much opportunity. Banks are starting to reevaluate their customers not only on their credit history but other payments like rent and utility payments.
The IRS has had great challenges quickly disbursing funds to those who don't have a direct deposit account on file. They are forced to distribute stimulus checks via Visa pre-paid cards.
People who have been using governmental programs like SNAP have been shut out of this digital capability. Since the pandemic many retailers and grocers have expanded to online shopping and delivery opinions. The goal for any traditional or digital-only institution is to have an individual form a banking relationship which offers financial planning of some sort. Under these circumstances, banks will have to get more creative serve the unbanked market.
There is technology, data, and digital access that is helping the unbanked move more towards a banking relationship. As technology keeps growing the unbanked will continue to transition to banked. Features like chatbots and virtual assistants help people who are on a tight budget.
As technology evolves it's allowing the banking world to serve more people; not only bankers but also non-bankers. For unbanked individuals, the key for banks is to offer more digital choices; the unbanked are changing the way that financial tools work.
Next time you're transferring funds from one account to another using ACH, remember the technology behind these actions is also being used in ways that serve individuals who are unbanked.
Check out the article
More About Park Avenue Group
Discover how Park Avenue Group rises above the competition, delivering unparalleled solutions and top-tier candidates that allow your business to succeed.