User Data Drives Marketing for Banking Apps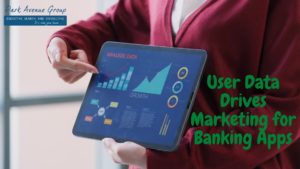 Paper is the past and digital banking is the new normal as it will keep increasing over time. With electronic bill payments growing 2-3 percent year-over-year. Digital banking started popping when the arrival of COVID suddenly hit. When going to the bank in person was no longer a choice many branches switched to remote deposits, e-payments and person-to-person transfer. This required many branches to re-evaluate their marketing of digital tools. The only down side was banks didn't know how to market their new digital tools without appearing to take advantage of the terrible COVID situation. When approaching this situation banks found that customer educations and clear, compelling benefits have to be at the center. When executed correctly, there is greater user engagement yielding more data that can then be used to further marketing campaigns and further drive revenue.
Saying the same thing, differently
During a crisis banks should tailor, and even segment, their marketing messages to the needs of their customer base. Change and routines habits can be difficult as well to where banks need to be careful in their communication along with the understanding of change.
Customer's safety is the number one priority before banks could roll out COVID marketing campaigns. These campaigns aimed towards the immediate needs that customers would need during an unpredictable time. The steps these banks took to keep everyone safe and social distancing was; remote deposit capture, electronic bill payment and P2P payments. The customers who were slow to the advancement or was not paying attention before was now starting to pay more attention and take on the new improvement/changes.
The recent results from Fiserv's quarterly consumer trends survey showed more than 1 in 4 consumers have changed payment methods due to the pandemic. More than 65% of customers say they most likely will increase their usage of mobile apps; payments, check deposit, and automatic and recurring payments to be permanent.
Focusing messages on the "what is a good way to connect with customers" is a way to highlight value propositions that are in the new realities of COVID-19.
Moving the needle
In the past 3 years the P2P payments have seen a consistent growth in adoption and usage every month. An exclamation point was put on March and April for the upward trajectory with new user growth at about 19% and 9% on average growth of transactions.
When noticing that the pandemic shifted from a health crisis to a financial one many noticed Gen Z had the highest rate of growth in P2P users and transactions, mostly after the stimulus payments. Real-time cash flow became more important for sending and receiving money which made some banks provide P2P solutions like Zelle. Its a fast, safe and easy way for people to transfer money back and forth to the people they trust. Venmo is another P2P app but the only difference is it charges a fee for instant access to the funds received.
Boomers also started using P2P payments in large numbers; with an average lift over the baseline expectations of 29% during the peak months of March, April, and May of COVID. Many people use the P2P payments to reimburse friends, family, and neighbors on the purchases they make on their behalf. For the older and potentially less digitally savvy users there have been demo videos offered to make their transitions smoother and less complicated to get started.
Leveraging a foundation of data
To drive greater engagement and be more personalized with the marketing messages, banks have used electronic payments data and analytics to hep understand their customers more. In the article Engage Differently: Marketing Digital Tools in a Time of Crisis there is an example given.
Filtering electronic payments user data by age and other demographics allows financial institutions to create targeted email campaigns and personalized messages that resonate with each group.
Where though Millennial's are looking to help manage financial situations they have yet to discover or are experiencing for the first time. Boomers on the other hand are concerned about security and trust in their daily digital banking. For maximum impact banks try to drill into data by specific branch or region by uncovering trends like; demographics and more to help them target their marketing messages more.
Flexing for the future
There has been huge significant rate change in digital solutions. With customers being stuck at home many have adapted to a more digital life with; work from home, school online, and even online shopping. Not knowing what the "new normal" maybe there is no reason the believe that consume's won't immediately abandon their digital lives.
Some digital systems started to improve or gain more usage when the pandemic hit. Good news is that moving forward with more digital opinions will provide more opportunities to improve better customer experiences. If banks continue to improve how they market their digital solution it will set them up for success i the future and they will be ahead of competition.
More About Park Avenue Group
Discover how Park Avenue Group rises above the competition, delivering unparalleled solutions and top-tier candidates that allow your business to succeed.